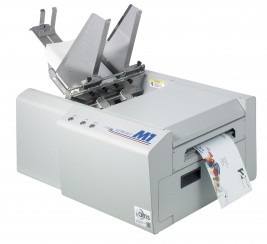 Envelope printers are a key way to increase efficiency in a business. If your mail room frequently sends out written information both your time and cost efficiency could be dramatically improved by an envelope printer. Time efficiency is increased by the sheer volume of envelopes that can be addressed in a far quicker time to that of printing the same number by any other means. Similarly cost efficiency in mail rooms is increased by the simple fact that labels are no longer needed, the title and address are printed straight onto the envelope. The mail room output time of producing envelopes is significantly reduced by an envelope printer.
The envelope printers provided by AMS are at the forefront of envelope-printing technology and our range has led the industry for nearly two decades. We have a premium selection of envelope printers for you to choose from, including the UK's top-selling envelope printer. With such quality printers you can produce envelopes with an appearance that significantly increases the likelihood that they will be considered and opened, rather than discarded without a second glance. An envelope printer in any mail room will provide quality and speed as well as flexibility, our envelope printers are able to print edge to edge, barcodes, postage paid impressions, and straight onto window envelopes. You are able to decide exactly how you want your envelopes to look and the printer will provide you with a high-caliber product, ready to dispatch.
Get in touch with AMS today to discover how one of our high-quality, high-efficiency envelope printers can improve your business today.
Categories: