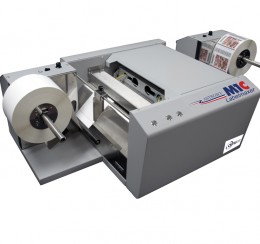 Label printers offer a simple way to increase sales revenues and profits of any business, large or small. Rather than the costly outsourcing of the printing of labels, a label printer offers the opportunity of producing labels in-house, on-demand and to your own specifications. There is no waiting for external suppliers and similarly no expensive invoice for their services. The supply of labels is within your control, both in terms of quantity and design.
Our label printers not only offer an easy way of increasing time and cost efficiency, they also produce high-quality colour labels, improving the appearance of any packaging and allowing you to customise and tailor your packaging to your wants and needs. We offer  desktop, short-run digital colour label printers which will very quickly become an integral part of in-house packaging production processes and crucial to the smooth-running of your business.
The purchase of label printers and subsequent production of labels internally is a rapidly-growing practice amongst many businesses to whom the packaging process is a key element and consideration, for both cost and time reasons. You will find that the internal production of labels with a label printer allows your business to rapidly increase packaging efficiency and output, whilst label printers also encourage individuality, allowing the creation of smarter packaging with a tailored appearance, incorporating sharp graphics on the labels.
Get in touch with AMS today to discover how one of our high-quality, high-efficiency label printers can aid your business to maximise production and cut costs.
Categories: